Chiropractic Care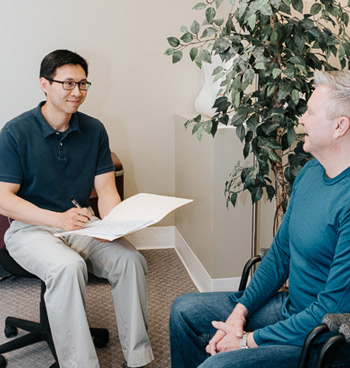 Experience better function, an improved range of motion and regain or maintain the ability to participate in sports or your favorite hobbies. The numerous benefits of chiropractic also include decreased pain, which allows for greater mental health.
At Action Chiropractic & Massage Therapy Clinic, Dr. Chan sees all ages, including children, seniors and athletes.
The many conditions we have helped include
Back pain
Headaches
Motor vehicle accident injury
Neck pain
Sciatica
Shoulder injury
Sports injury
Workers' compensation injury
Tailoring to Your Needs
Dr. Chan takes a personalized approach to each patient's health care. We want to ensure you're comfortable and receive the treatment that's most appropriate for your case.
Both manual, hands-on methods and instrument-based techniques are available to you. Soft tissue work may also be utilized, as well as stretching and strengthening exercises Dr. Chan may recommend.
If you're in acute pain, we will likely see you with a higher frequency, reducing as you start to get better. If necessary, we can refer you out for X-rays and muscular ultrasound for further assessment.
Please rest assured that a chiropractic adjustment should not hurt. If you feel any discomfort, please notify Dr. Chan immediately so that he can modify your care.
Additional Solutions for Your Healing
Action Chiropractic & Massage Therapy Clinic offers several options to assist in regaining your health. You can also benefit from
Custom-made orthotics. The Orthotic Group's products can help those suffering from plantar fasciitis, foot pain, high arches, flat feet or who work while standing on hard surfaces.
Ultrasound. To reduce inflammation, break up scar tissue and more, this therapy is useful for tendinitis, strains and sprains.
Contact us today to find out more or schedule your appointment! Your insurance coverage can be used for your visits.
---
Chiropractic Care | (780) 452-6172